Un disegno preparato per una pubblicazione scientifica deve rispondere
alle necessità di comunicazione degli autori.
Lavorando a fianco dei ricercatori e seguendone le indicazioni, cerco
di decifrare e di tradurre in disegno forme e strutture naturali.
L'obiettivo è ottenere una illustrazione in cui gli elementi significativi
siano ben visibili e comprensibili, a corredo del testo che verrà presentato
ad altri studiosi in tutto il mondo attraverso lo scambio delle pubblicazioni scientifiche.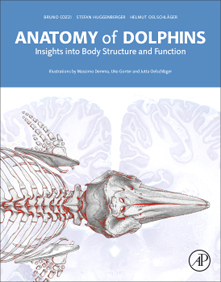 Bruno Cozzi, Stefan Huggenberger,
Helmut Oelschläger (2016)

Anatomy of Dolphins
Insights into Body Structure and Function

Illustrations by Massimo Demma, Uko Gorter,
Jutta Oelschläger

Elsevier

"Kudos to Massimo Demma, Uko Gorter,
and Jutta
Oelschläger for their impressive
contributions"
Sam Ridgeway
National Marine Mammal Foundation
San Diego, CA, United States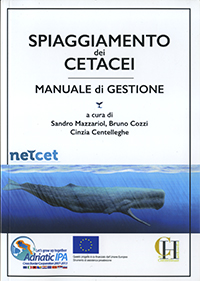 Sandro Mazzariol, Bruno Cozzi,
Cinzia Centelleghe
Disegni di Massimo Demma (2016)

"Spiaggiamento dei Cetacei"
Manuale di gestione

The Coffee House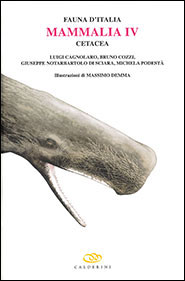 Luigi Cagnolaro, Bruno Cozzi,
Giuseppe Notarbartolo di Sciara, Michela Podestà
disegni di Massimo Demma (2015)

"Mammalia IV- Cetacea"

collana "Fauna d'Italia"

Edagricole-New Business Media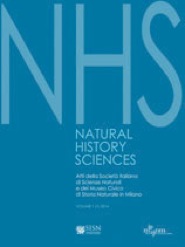 Michele Povinelli, Mattia Panin, Sandro Mazzariol,
Maristella Giurisato, Cristina Ballarin, Giulia Roncon,
Michela Podestà, Massimo Demma, Bruno Cozzi

"Notes on the brain and encephalization quotient of two sperm whales
with a synthesis of the literature and indications of a new method of extraction"

novembre 2014, Vol.1 n°2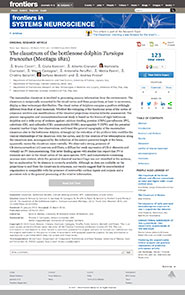 Cozzi
et al (2014)

"The claustrum of the bottlenose dolphin
Tursiops truncatus
(Montagu 1821)"

Frontiers in Systems Neuroscience
March 2014 Vol. 8 Article 42
www.frontiersin.org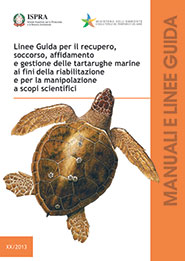 ISPRA (2013)
Istituto Superiore per la Protezione
e la Ricerca Ambientale
Ministero dell'Ambiente e della tutela
del territorio e del mare

"Linee Guida per il recupero, soccorso, affidamento
e gestione delle tartarughe marine ai fini della riabilitazione
e per la manipolazione a scopi scientifici"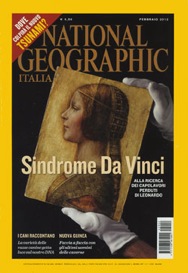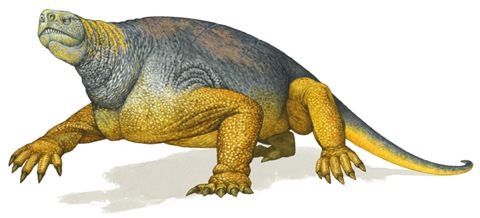 Con la direzione scientifica del paleontologo Simone Maganuco ho ricostruito l'aspetto di un rettile sinapside del Permiano rinvenuto in Sardegna; il lavoro è stato pubblicato su National Geographic Italia (febbraio 2012) e ha vinto il Best Edit, una sorta di premio interno che National Geographic Magazine assegna ogni mese alla pagina migliore
tra quelle prodotte da tutte le edizioni internazionali (che oggi sono 33).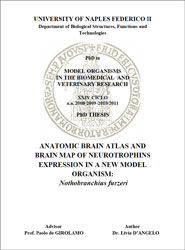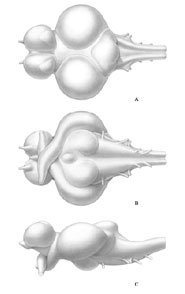 UNIVERSITY OF NAPLES FEDERICO II
Department of Biological Structures, Functions and Technologies
PhD in
MODEL ORGANISMS
IN THE BIOMEDICAL AND
VETERINARY RESEARCH
XXIV CICLO
a.a. 2008/2009-2010/2011
PhD THESIS

ANATOMIC BRAIN ATLAS AND
BRAIN MAP OF NEUROTROPHINS
EXPRESSION IN A NEW MODEL
ORGANISM:
Nothobranchius furzeri

Advisor Prof. Paolo de GIROLAMO
Author Dr. Livia D'ANGELO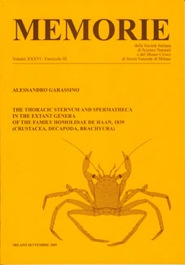 Alessandro Garassino (2009)
The thoracic sternum and spermatheca
in the extant genera of the family Homolidae De Haan, 1839
(Crustacea, Decapoda, Brachyura)
Memorie della Società Italiana di Scienze Naturali e del Museo Civico di Storia Naturale di Milano
Volume XXXVI - Fascicolo III
Milano


"It's a real pleasure to see all this big work, so well illustrated, published.
It will be a great help for all future studies on the Homolid family".
Bertrand Richer De Forges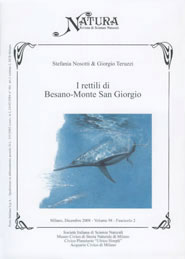 Stefania Nosotti & Giorgio Teruzzi (2008)

I rettili di Besano-Monte San Giorgio

Natura - Rivista di Scienze Naturali
Società Italiana di Scienze Naturali e del Museo Civico di Storia Naturale di Milano
Milano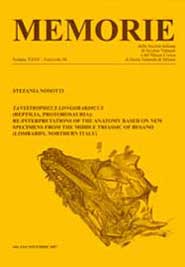 Stefania Nosotti (2007)

Tanystropheus longobardicus

(Reptilia, Protorosauria):
re-interpretations of the anatomy based on new specimens
from the Middle Triassic of Besano
(Lombardy, northern Italy)
Memorie della Società Italiana di Scienze Naturali e del Museo Civico di Storia Naturale di Milano
Volume XXXV - Fascicolo III
Milano

vai alla pagina dedicata a questa pubblicazione


"This monograph is dedicated...
to Massimo Demma, whose generosity, patience and extreme professionalism
made an important contribution to this publication..."
Stefania Nosotti, ricercatore, sezione di Paleontologia
Museo Civico di Storia Naturale, Milano

"It's a great paper, and magnificently illustrated. A landmark study!"

Olivier Rieppel
, The Field Museum, Chicago, Stati Uniti

"I'm also very impressedby the quality of the figures and the production.
It's a work of both art and science"

Richard Forrest
, New Walk Museum, Leicester, Regno Unito

"... my congratulations also to your excellent team of art workers"

Hans Hagdorn
, Muschelkalkmuseum, Ingelfingen, Germania

"...this is undoubtedly one of the most beautiful pieces of work I've ever seen,
especially the foldout plates"

Michael P. Taylor
, School of Earth and Environmental Sciences,
University of Portsmouth, Regno Unito


"
La veste del volume è splendida!"
Rudolf Stockar
, Museo cantonale di storia naturale, Lugano, Svizzera

"The illustrations are phenomenal and so helpful"

Nicholas C. Fraser
, Keeper Natural Sciences
National Museums Scotland, Edinburgh, Scozia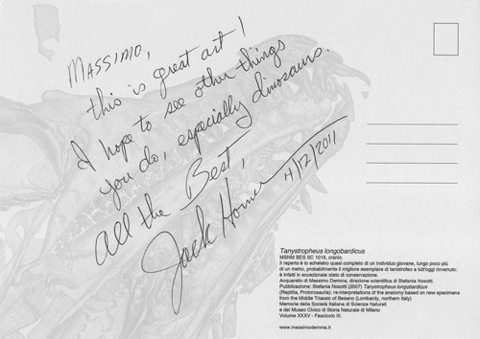 "
Massimo, this is great art! I hope to see other things you do, especially dinosaurs. All the best"

John "Jack" Horner
, Curator of Paleontology,
Museum of the Rockies and Regents Professor, Montana State University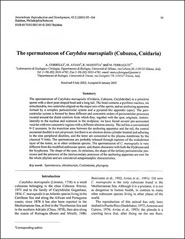 A. Corbelli, M. Avian, R. Marotta and M. Ferraguti (2003)

The spermatozoon of
Carybdea marsupialis
(Cubozoa, Cnidaria)

Invertebrate Reproduction and Development
Balaban, Philadelphia / Rehovot


"...grazie per il
disegno
, che trovo bellissimo..."

Marco Ferraguti

Professore di Evoluzione Biologica
Laboratorio di Zoologia e Citologia
Dipartimento di Biologia
Università degli Studi di Milano


"I have just seen your Corbelli et al paper.
It contains the best
sperm drawing
that I have ever seen".

Barrie Jamieson
Ph.D., D.Sc.
Emeritus Professor
Department of Zoology and Entomology
University of Queensland
Brisbane, Australia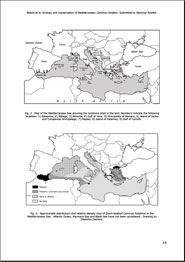 Giovanni Bearzi
, Randall R. Reeves,
Giuseppe Notarbartolo-di-Sciara
,
Elena Politi
,

Ana Cañadas, Alexandros Frantzis & Barbara Mussi (2003)

Ecology and conservation status of Short-beaked Common Dolphins (
Delphinus delphis
) in the Mediterranean Sea
Mammal Review
Volume 33 Issue 3-4 Page 224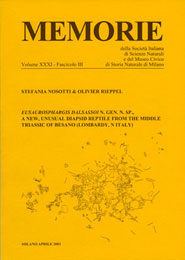 Stefania Nosotti &
Olivier Rieppel
(2003)

Eusaurosphargis dalsassoi
n. g. n. sp., a new, unusual diapsid reptile from the middle Triassic of Besano (Lombardy, N. Italy)

Memorie della Società Italiana di Scienze Naturali e del Museo Civico di Storia Naturale di Milano
Volume XXXI - Fascicolo III
Milano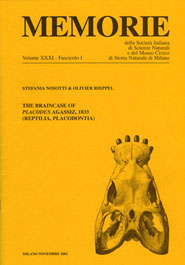 Stefania Nosotti &
Olivier Rieppel
(2002)

The braincase of
Placodus
Agassiz, 1833 (Reptilia, Placodontia)

Memorie della Società Italiana di Scienze Naturali e del Museo Civico di Storia Naturale di Milano
Volume XXXI - Fascicolo I
Milano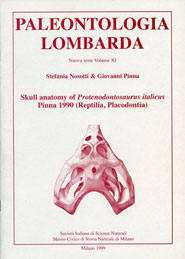 Stefania Nosotti e
Giovanni Pinna
(1999)

Skull anatomy of
Protenodontosaurus italicus
Pinna 1990 (Reptilia, Placodontia)

Paleontologia Lombarda, nuova serie, Volume XI
Società Italiana di Scienze Naturali
Museo Civico di Storia Naturale di Milano
Milano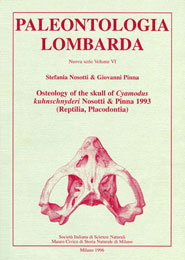 Stefania Nosotti e
Giovanni Pinna
(1996)

Osteology of the
skull
of
Cyamodus kuhnschnyderi
Nosotti & Pinna 1993 (Reptilia, Placodontia)

Paleontologia Lombarda, nuova serie, Volume VI
Società Italiana di Scienze Naturali
Museo Civico di Storia Naturale di Milano
Milano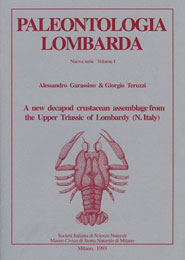 Alessandro Garassino
e
Giorgio Teruzzi
(1993)

A new Decapod Crustacean assemblage from the Upper Triassic of Lombardy (N. Italy)

Paleontologia Lombarda, nuova serie, Volume I
Società Italiana di Scienze Naturali
Museo Civico di Storia Naturale di Milano
Milano
Jean Michel Mazin e
Giovanni Pinna
(1993)

Evolution, ecology and biogeography of the Triassic Reptiles
Società Italiana di Scienze Naturali
Museo Civico di Storia Naturale di Milano
Milano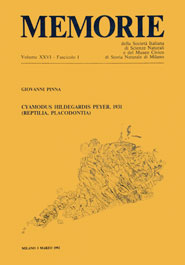 Giovanni Pinna
(1992)

Cyamodus hildegardis
Peyer, 1931
(Reptilia, Placodontia)
Memorie della Società Italiana di Scienze Naturali e del Museo Civico di Storia Naturale di Milano
Volume XXVI - Fascicolo I
Milano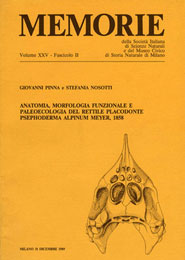 Giovanni Pinna
e Stefania Nosotti (1989)

Anatomia, morfologia funzionale e paleoecologia del rettile placodonte
Psephoderma alpinum
Meyer, 1858

Memorie della Società Italiana di Scienze Naturali e del Museo Civico di Storia Naturale di Milano
Volume XXV - Fascicolo II
Milano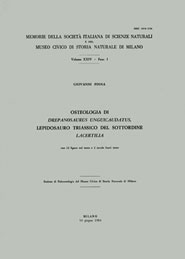 Giovanni Pinna
(1984)

Osteologia di
Drepanosaurus unguicaudatus
, Lepidosauro triassico del sottordine Lacertilia

Memorie della Società Italiana di Scienze Naturali e del Museo Civico di Storia Naturale di Milano
Volume XXIV Fasc. I
Milano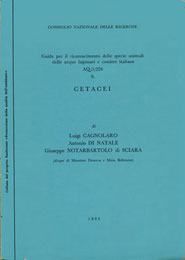 Luigi Cagnolaro,
Antonio di Natale
,
Giuseppe Notarbartolo di Sciara
(1983)

Cetacei

Guide per il riconoscimento delle acque lagunari e costiere italiane
vol. 9
Consiglio Nazionale delle Ricerche